So what are the best kitchen sink faucets to include in your kitchen remodel?
How do I choose a kitchen faucet?
Where to start when selecting a kitchen faucet for your kitchen remodel?
We always recommend stepping back and looking at the big picture first and eliminating the faucets we will not consider.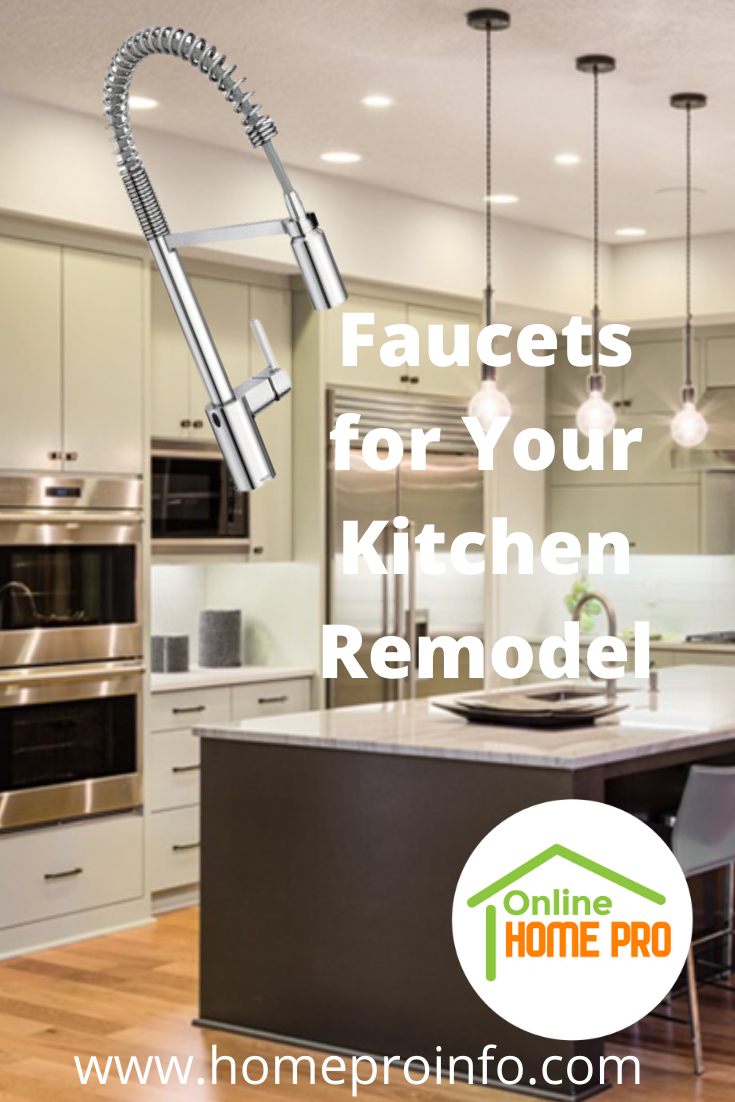 Wall mount or deck mount kitchen faucets
While wall mount kitchen faucets are not nearly as common as deck mounted faucets, they do have some advantages:
They avoid having to drill holes in the countertop behind the sink or needing holes in the sink in the first place.

They make the sink area much easier to keep clean and reduce the opportunity for bacteria, mould and limescale to accumulate.
If the kitchen you are remodeling or renovating is already plumbed for a wall mounted faucet, it makes sense to replace it rather than run new plumbing under the sink to a deck mounted faucet. 
However, that said, your design choices in wall mounted faucets are relatively limited.  Also, the conventional deck mounted arrangement more easily includes the soap or lotion dispenser, which is an important accessory.
Wall mount kitchen faucets you can check out on Amazon
Contrast those with these pulldown deck mounted kitchen faucets on Amazon
| Pulldown Faucet | Description | Dimensions |
| --- | --- | --- |
| | Delta Faucet Leland Single-Handle Kitchen Sink Faucet with Pull Down Sprayer, ShieldSpray Technology and Magnetic Docking Spray Head, Chrome | 9.2 x 12 x 9.2 |
| | Moen 7594SRS Arbor One-Handle Pulldown Kitchen Faucet Featuring Power Boost and Reflex, Spot Resist Stainless | 7.9 x 10.2 x 15.5 |
| | Delta Faucet Kate Single-Handle Kitchen Sink Faucet with Pull Down Sprayer, Soap Dispenser and Magnetic Docking Spray Head, Stainless | 11.6 x 6.7 x 14.3 |
| | KOHLER K-596-Vs Simplice High-Arch Single-Hole Or Three-Hole, Single Handle, Pull-Down Sprayer Kitchen Faucet, Vibrant Brushed Stainless With 3-Function Spray Head, Sweep Spray And Docking Spray Head Technology | 9 x 9.6 x 16.6 |
| | Delta 19932Z-SPSD-DST Berkley Single Handle Pull-Down Kitchen Faucet | Not stated |
| | WEWE Single Handle High Arc Brushed Nickel Pull out Kitchen Faucet,Single Level Stainless Steel Kitchen Sink Faucets with Pull down Sprayer | 22.7 x 11 x 3.1 |
Go for touchless or single handle kitchen faucets only
Our site emphasises aging in place and Universal Design. And universal design is just a fancy term for designing for everyone.
This means that knob or twist operated faucets are out. Older hands cannot grip and turn them well. Besides, why should it just be the elderly who benefit from new technology?
So, for the kitchen sink, we only recommend easy to use touchless, touch-to-use or easy lever faucets. A touchless or hands-free faucet uses motion sensor technology to turn the water on and off. More on that later.
If a hands-free faucet is not possible, a single lever handle faucet mounted on the side of the countertop rather than at the back of the kitchen sink is another way to make a sink more convenient and accessible.
More faucet buying criteria
Choose your faucet before you select your sink
Since you are remodeling or renovating a kitchen, you will likely get a new sink as well as a new faucet. It's best to choose the faucet you like before you select the sink. Here's why.
Some faucet arrangements require multiple holes in the top of the sink. Others only require one. And then you also need to consider a hole for the soap or lotion dispenser.
So choose the faucet first and then select a sink with the appropriate number of holes.
Faucet spout height and reach
The faucet needs to be tall enough to accommodate the largest of the items you may need to wash, rinse or fill when placed in the sink. But make sure it is not too tall to fit under any overhanging shelf or cabinetry.
Spout reach is the horizontal distance from the center of the spout base to the fall of the water stream.  The ideal distance is such that the water from the faucet will hit a sink drain when it is turned on.
Faucet handle clearance
Make sure that there is adequate space behind the sink to operate the faucet controls without hitting the backsplash.
Do high arc kitchen faucets splash?
Yes, they do. High arc faucets make a splashy design statement but they also cause water to splash quite heavily  in the sink. So if you choose a high arc faucet make sure the kitchen sink is deep enough to handle the splashing.
Pro tip: A stainless steel grid in the bottom of the sink can mitigate the splashing.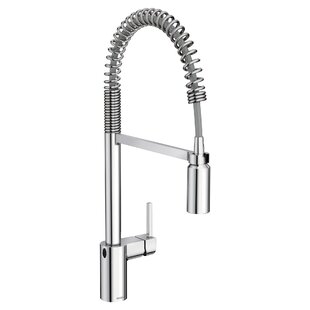 Check out these high arc kitchen faucets on Amazon
Kitchen Faucet Durability
Get a faucet with ceramic valves for the best long term reliability and a drip free experience.
Kitchen faucets with sprayer
The sprayer is an important feature of the modern kitchen sprayer. A pulldown sprayer integrated within the faucet itself appears to be more reliable than the side mounted sprayer as regards leak-free longevity.
Kitchen faucet finishes
There are many options but the typical kitchen faucet finish is metallic. The metals used or emulated include chrome, nickel, stainless steel, pewter, platinum, brass, bronze, and copper. The metallic options come with gleaming or muted finishes in polished, brushed or satin. Manufacturers typically use the brushed and satin descriptors interchangeably.
Chrome, stainless and nickel finishes are typically less expensive than bronze or brass. Chrome is the most durable of the faucet finishes. And be aware that the standard oiled and rubbed bronze finish is very likely an epoxy coating rather than actual metal. 
Non metallic finish options are enamel or epoxy in colors that include white, biscuit, and black.
Always select your kitchen faucet finish to match nearby cabinet hardware, or vice versa.
What is the most reliable brand of kitchen faucet?
Who makes the best kitchen faucets? You can't go wrong with a well known brand. The following are all reliable: 
Delta kitchen faucets (probably the best overall), 

Moen kitchen faucets (higher end)

Kohler kitchen faucets (great designs)

Kraus kitchen faucets (commercial style) 

Pfister kitchen faucets (very wide selection), 

American Standard kitchen faucets (generally good all around)

Hansgrohe

kitchen faucets

(eco friendly technology)
But do not overlook less well known brands, provided their review ratings are good. There are some excellent, highly rated lesser known faucet brands on Amazon
Touchless or hands-free Faucets
Touchless or hands-free faucets have been around for quite a while in the commercial world and are very common in restrooms everywhere. 
They are now available for domestic kitchens and bathrooms.
How do touchless faucets work?
These faucets are motion activated and contain a sensor at their base. Many can be programmed to produce a certain rate of water flow and a predetermined temperature.
When you pass your hand directly in front of the faucet, the water flows. And when the unit senses your hand is no longer there, it shuts the water off.
Some of these faucets come with regular lever handles as well.
Why would you want a touchless faucet?
They are convenient. This is obvious. In both a kitchen and bathroom setting, if you have something else in your hands, you don't have to put it down to turn on the water.

They are hygienic. Since you don't have to use your hands to turn on the faucet, you are reducing the risk of leaving germs on the hardware and having them spread by other people. This translates into safer food prep.

No more accidentally leaving the water on and wasting it or causing a flood. 

Easy on the hands. No more having to grip and turn knobs. This is very beneficial in an aging in place scenario. 
Check out these touchless kitchen faucets on Amazon
The pot filler faucet can be wall or deck mounted.
The pot filler faucet is an often overlooked convenience and safety feature. It avoids the need to fill heavy pots in the kitchen sink and then heave them over to the cooktop. It is a great kitchen convenience for the very active cook and many people swear by them..
The pot filler faucet is deck mounted or plumbed into the wall behind the cooktop. It has an extendable spout that you can pull over the pot and then fold back against the wall when not in use. 
Obviously, this feature needs to be planned in advance and provided for at the rough plumbing stage of the remodel project. It is entirely possible that existing plumbing in the kitchen may make a deck mounted pot filler a more economical proposition than a wall mounted pot filler.
However, the plumbing and the pot filler together amount to a fairly large expense, so be sure you really want one of these before putting it in. And remember, the pot filler is great for filling a pasta pot in place on the stove but you still have to lug a hot pot from the stove over to the sink to empty it.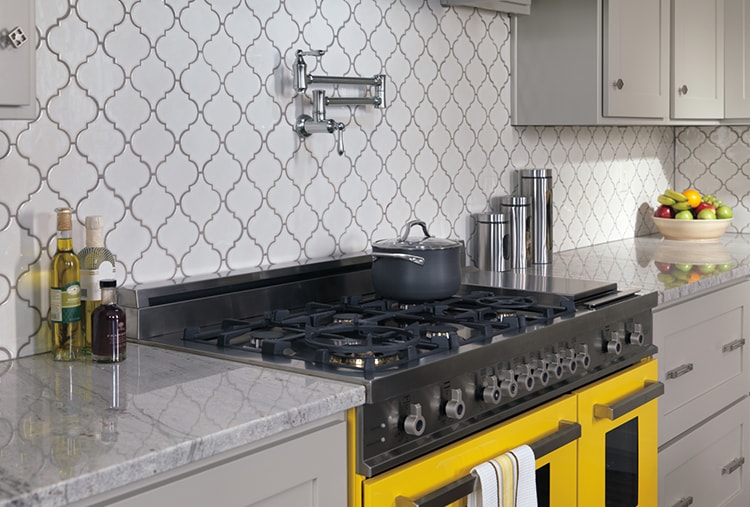 Check out these pot filler kitchen faucets on Amazon
The prep or bar sink faucet is a secondary kitchen faucet that is much smaller than the main faucet but should match its finish.  A prep sink faucet should have its own pull down sprayer to facilitate the washing of meat or produce. 
As with the main kitchen faucet an integrated spray head is, in our opinion, better than the separate side spray for leak free longevity.
Also, the prep sink faucet should be in scale with the sink it serves.
Check out these prep and bar sink faucets on Amazon
| Prep Sink Faucet | Description | Dimensions |
| --- | --- | --- |
| | AguaStella AS59CH Chrome Bar Faucet or Prep Kitchen Sink Faucet with Pull Down Sprayer and Single Handle | 13.5 tall |
| | KOHLER 360 Degree Swing Spout Bar Faucet, Single-Handle Single Hole, Vibrant Brushed Stainless, Entertainment Faucet, Secondary Faucet, Prep Faucet | 7.2 x 2 x 13 |
| | Pull out Sink Bar Faucet with Magnetic Docking Sprayer, Prep Sink/Small Kitchen Sink Faucet in Chrome, Farmhouse/Bathroom Faucet with Sprayer | Not stated |
| | Bar Sink Faucet Crea Stainless Steel Farmhouse Bathroom Lavatory Sink Faucet Mixer,Small Kitchen Faucet Tap Brushed Nickel | 3.9 x 2.4 x 3.9 |
| | Bar & Prep Sink Faucet with Magnetic Docking Sprayer, Pull Out Bathroom Faucet in Brush Nickel, Wet & Mini Bar Faucet | Not stated |
| | Peerless Tunbridge 2-Handle Bar-Prep Kitchen Sink Faucet, Stainless | 5 x 6 x 11.3 |
Soap and lotion dispensers
Part of your planning should include provision for a soap and/or hand lotion dispenser. It should coordinate with the style and finish of your kitchen faucet. 
Soap and lotion dispensers permanently installed through one of the holes at the kitchen sink are a great convenience because you do not  have to go searching around for soap or lotion when you need them. They are always right there. If it just sits free on the counter it is likely to grow legs and it will not be to hand when you  need it.
Of course, a lotion dispenser is not necessarily a "must have " but most would agree that a soap dispenser at least is a definite must. .
What kind of soap dispenser should you get? It's best to go with a known brand. Most faucet manufacturers make them and even sell them as part of a faucet package. Make sure it is metal (not plastic) and has a solid  pump action.
Check out these soap dispensers on Amazon
| Soap Dispensers | Description | Dimensions |
| --- | --- | --- |
| | Gagal Built in Sink Soap Dispenser or Lotion Dispenser for Kitchen Sink, Brushed Nickel ABS Pump Head, with 13 Ounce Large PET Soap Bottle | 8 x 5 x 3 |
| | Delta Faucet Pilar Kitchen Soap Dispenser for Kitchen Sinks, Stainless | 3.5 x 2.2 x 3.5 |
| | Soap Dispenser for Kitchen Sink (Brushed Nickel), Stainless Steel, Refill from the Top, Built in Sink Soap Dispenser with Large 17 Ounce Bottle | Not stated |
| | KRAUS Spot Free Kitchen Soap or Lotion Dispenser with 17 oz. Large Capacity Bottle and Brass Pump in all-Brite Stainless Steel | 3.2 x 4.2 x 2.8 |
| | Keonjinn Kitchen Soap Dispenser,Built in Kitchen Sink Soap Dispenser,Manual Press Head,Two Ways of Using | 8.8 x 6.4 x 3.9 |
| | SAMODRA Soap/Lotion Dispenser for Kitchen Sink, Brass Pump Brushed Nickel Finish Built in Design with 39" Extension Tube Directly to Soap Bottle, No More Messy Refills (No Bottle) | 9.1 x 5.2 x 2.6 i |
How much do kitchen faucets cost?
The cost of a kitchen faucet comprises its material cost plus its installation cost
Material cost of a kitchen faucet
A low end, cheap faucet might cost only $35 or so. A decent mid range faucet will run you $150 to $400. A really high end faucet can cost $2,000 or more.
Installation cost of a kitchen faucet
In a full on remodel project, the installation cost of the kitchen faucet would be included in the "finish plumbing" part of your contractor's overall remodel bid. 
If the installation is a one off event and involves the removal of an existing faucet, then you can expect to pay anything from $175 to $400 or more depending on difficulty. For example, the difficulty of removing an old rusted in faucet could cost $200 just by itself.
Important kitchen safety reminder
Don't forget an anti-scald device on the water heater to prevent burns to fragile skin from any hot water outlet in the home.